For the entirety of my adult life, I've been studying culture, based on the conviction that media products (however 'mindless' and 'disposable' many claim them to be) play an incredibly valuable role in all our lives. This is because they are bound up inextricably in our wider experiences of the world, of other people, and in our emotional reality.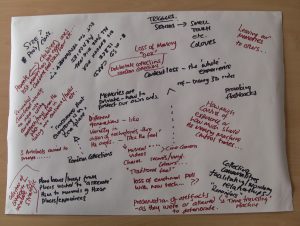 It's easy to identify moments from my own life that illustrate this point. Anaesthetising my teenage anxiety, while I waited to hear if I'd got my University place, by concentrating instead on the characters in a favourite book, Annie Proulx's The Shipping News. Escaping to Middle Earth after my PhD examination by watching the Lord of the Rings Trilogy (extended editions) back-to-back. Euphorically dancing around the flat with my newborn daughter to Paolo Nutini's Pencil Full of Lead singing "best of all, I got my baby".
These formative experiences that stick in my memory are linked to and enriched by the media I consumed in those moments. And perhaps the stickiness of those memories is reinforced every time I encounter that content again. Certainly particular pieces of media trigger particular memories, and that nostalgia can be quite visceral. For example, Beyoncé's Crazy in Love reimmerses me in another swelteringly hot summer – 2003 – when that hit single seemed to be continuously blasting through the open windows of every vehicle in London.
Lots of amazing, imaginative work is being done to take advantage of the propensity of media to 'transport us' in time and space, especially when memories and/or media become harder to access. The WAYBACK is a virtual reality film, funded by £35,000 pledged to a Kickstarter campaign, that recreates Coronation Day 1953 to help those living with Alzheimer's and their carers recall the conversations, music and atmosphere of a street party. In situations when people's cultural worlds become restricted, digital apps can also help maintain access to content and all its benefits. Armchair Gallery is developing an app to enable digital access to, and creative interaction with, artworks in collections for those who cannot physically visit them.
What excites me about the Memory Machine idea is imagining an in-home media repository cum player that could automatically connect personally important content (e.g. a pop song) with a period of time (e.g. when you added it to your music collection or listened to it a lot) and with other contemporaneous media (e.g. a film or advert of the time that featured the song). This has the potential to generate multi-layered, multimedia connections between individual and historical context. More than that, a system that could link one person's cultural experiences with those of people around them would also transcend the artificial limitations we all apply to media on the basis of personal taste. I think it would be wonderful if my daughter could one day, as an adult, get a sense of the love and joy she brings me by being played a pop song from 'before her time'.
Written by Dr Sarah Martindale