Memory Machine Workshop 3
21st September 2018
Identity and wellbeing
We had a diverse group join us for our third workshop which started with a short walk outside, down to the Raleigh commemoration sculpture: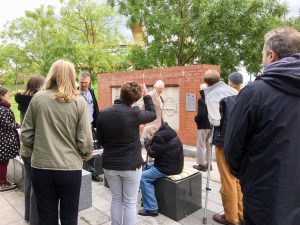 Landscapes prompt memories, as does the weather – as we found when it started raining! So we rapidly retreated indoors. We discussed local places and community connections and their importance in building a sense of familiarity and identity. One of our participants talked about walking around Nottingham, looking at old buildings, and that seeing a building or street from a particular angle would evoke a memory – perspective and place is so important in our memories. In Nottingham we are lucky to have archives from local industries; Raleigh bikes (the factory stood on the site of our new campus) and Boots pharmaceuticals and toiletries. Participants mentioned that Nottingham is also famous for less healthy products; such as beer and tobacco.
I gave a brief talk about how place is connected with health in many different ways. As well as working life, our home life and communities hold strong memories. We had three groups discussing their memories of place and community. Memories of Trent bridge leather tannery, and streets of small shops including a tattoo parlour!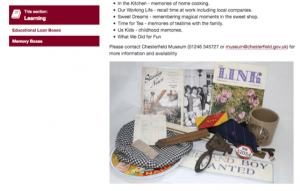 Rachel Jacobs described some interactive and digital experiences that explored issues of wellbeing and place, as well as interesting interactive public displays and interventions. These included: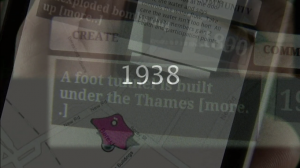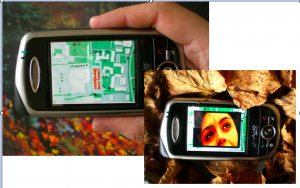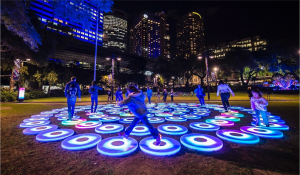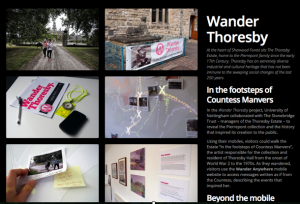 Rachel talked about how the Memory Machine might be able to link into similar forms of interactive experiences either at home or in familiar places, or areas of local interest so that people could both share and access their memories of these places. She spoke about the value of our memories and how the memories and experiences of older generations can enrich the experience of being in places and help us to understand the history, as well as the present and future of the place where we live and work.
Our three groups then considered how a digital 'memory machine' might capture some of these memories about place. One group considered an 'outdoors Alexa'- a kind of 'listening post' where people could record, and share, their own recollections of that place – e.g. a street or a park. This idea grew legs! We discussed how people could meet at one of these posts, and then walk together, discussing memories, and recording them at the next post. With a mechanism to assign this shared recording to your personal account – when you got home you could listen again.
Listening again, or recording from one place, but playing back inside, prompted discussion of sharing with residents of a care home or others who may not be able to get out and about. We thought about how to encourage individuals and families at early stages of dementia to start recording memories, or making notes. We had health and social care practitioners in the group who shared their experience of caring for people, and how prompts and recordings could be useful.
Another group discussed a similar use of the memory machine in a park such as Gedling Country Park, with a listening area where people can sit and hear about the history of the park and colliery that used to be there and share their own memories, and people who can't get to the park can also take part in the conversation and share experiences of being in the park and their own memories from home or a care centre. They also talked about how we manage difficult memories as well as joyful ones and how you can create the right experience to help people to access different memories in a positive way. The group also talked about the positives and negatives of technology and the internet and how it is affecting younger generations and changing how they communicate with each other – how it can both bring people together, and make people feel isolated.
During the session I learnt a lot about Nottingham from the older members of the group. How black lead was used in the laceworks, which would cause damage to the brain and memories of the workers. I said how lucky we are that we can just type into a websearch any locality or industry and rapidly find some information, pictures or archives. One group had discussed cigarette cards – the Google of their generation! Recalling previous generations, we discussed how statues and stained glass of churches were a way of representing Biblical people and stories when the text was in inaccessible Latin.
Places and industry can prompt painful memories; we should not ignore difficult memories, but be aware of our reactions to these. Overall, we discussed how familiar places are interlinked with and our sense of identity and wellbeing. Neil suggested that many of the topics could be linked to Five Ways to Wellbeing – an evidence base linking activities to health and wellbeing – Connect, Be Active, Take Notice, Keep Learning and Give.
https://www.mind.org.uk/workplace/mental-health-at-work/taking-care-of-yourself/five-ways-to-wellbeing/
Raleigh archive: http://www.iworkedatraleigh.com/
John Players archive: https://www.nottingham.ac.uk/connectedcommunities/projects/john-player-archive.aspx
Written by Neil Chadborn