What did the team learn from recently capturing and examining video data of people in the lab playing Hotline Miami and Tekken 2?
We noted that Players exhibited a number of different behaviours based on what was happening in the game, including leaning forward when concentrating, and leaning back when tension was released. They tended to smile frequently – particularly when key game events occurred.
When playing the two-player fighting game Tekken 2, they displayed more facial expressions, and also interesting so when the single player recognised that someone was standing behind them!
These findings have led the team to consider what can be learnt about the experience of a game from a sequence of facial expressions pulled.
The Panopticon project has deployed a data capture set up at the National Videogame Arcade (NVA), aiming to capture sufficient video data of people playing, so that eMax can be trained to better recognise player behaviours and expressions automatically.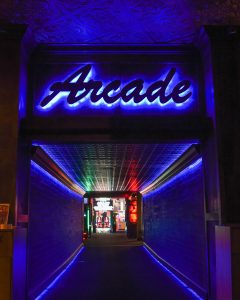 Photo by Element5 Digital from Pexels
If you're visiting the NVA this week and want to participate in the Panopticon research project, or want to learn more, look out for us in the foyer!